The optical submarine cable, EllaLink is "of the utmost strategic importance" to Europe, according to the Portuguese Prime Minister, who said that "our geographic position made us something very important in the past, something we will be again in the future: a connection point between Europe and the other continents".
António Costa was speaking at the inaugural ceremony for the 6,000-kilometre-long high-speed communications cable connecting Europe directly to South America, whose launch was integrated into the "Leading the Digital Decade" event, co-organised by the Portuguese Presidency of the Council of the EU and the European Commission, with the participation of Member States, the private sector and civil society, to promote a broad discussion on the digital transformation of the EU.
Using the COVID-19 pandemic as an example, the Prime Minister said that "one country alone could not have developed the vaccine" and that the "example the scientific community has set, of sharing knowledge and data, is an inspiration for precisely what this cable will make possible on a daily basis and in the future".
The EllaLink cable has now been anchored in Sines Tech at ZILS in Sines, making a direct connection to Fortaleza in Brazil.
The Portuguese Minister of State for the Economy and the Digital Transition , Pedro Siza Vieira, pointed to the private nature of the investment – supported by the European Union – and the importance of the infrastructure, which will improve "data transmission between the two continents".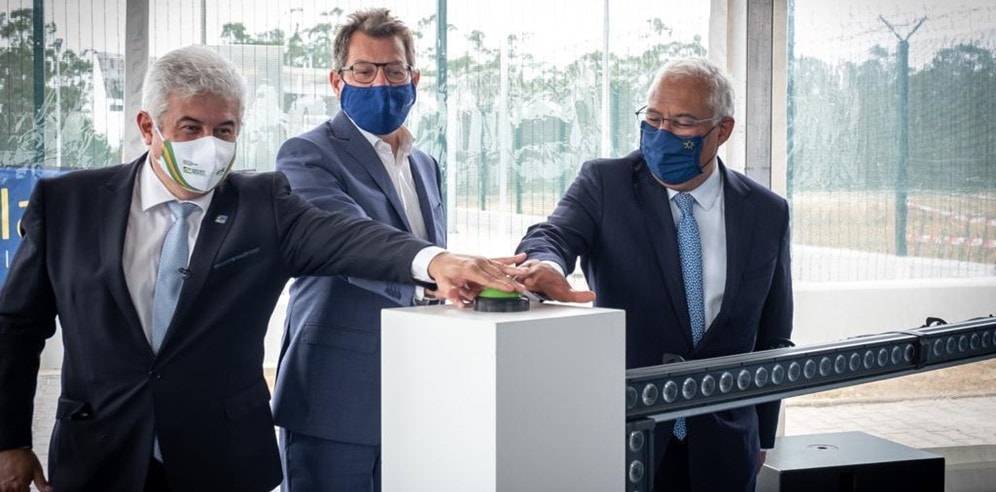 A renewed partnership between the EU and Latin America
According to the President of the European Commission, Ursula von der Leyen, who took part in the event via a video message, the EllaLink submarine cable "symbolises our renewed partnership with Latin America" and "is an example for our involvement with partners all over the world".
Von der Leyen also added that the direct connection between the two continents "will boost businesses and scientific and cultural sharing", as well as contributing to "the security, resilience and stability of the internet", adding that the global economy no longer depends solely on commercial routes, but also on data flows.
EllaLink is a 6 000 km submarine cable system that will directly link Europe and Latin America and provide the first-ever high capacity direct fibers between the two continents, without transiting North America, thereby reducing the latency and improving the predictability of performance.
This project is co-funded by the EU through the BELLA programme (Building Europe Link to Latin America) and will not only benefit the telecoms market, but also the scientific and education communities in both continents through their respective academic networks. It will also pave the way to cooperation in High Performance Computing and Earth Observation data.