For an efficient landing of submarine cables and a premium, secure and infrastructured location in Europe for Data Centers installation.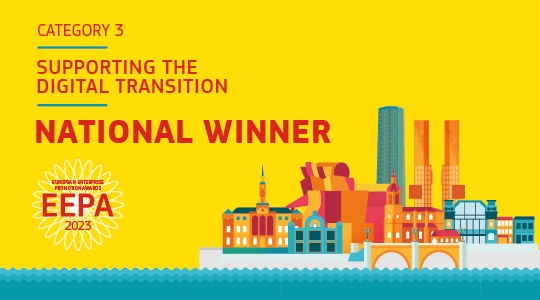 EEPA 2023 National Winner
Sines Tech – Innovation & Data Center Hub is the National Winner for the European Enterprise Promotion Awards 2023, under category 3 – Supporting the Digital Transition. 
Strategically positioned for the joint development of Subsea Cable Systems and Data Center infrastructures, both at the core of today's internet.
Sines Tech – Innovation & Data Center Hub combines in one location, "open access" to cost-effective land, high power density networks including access to nearby solar panels parks, high availability backhaul routes to Madrid and Lisbon, as well as a robust and secure subsea cable landing site.

Electricity grid
Stable, abundant and redundant electricity supply. The power grid infrastructure in ZILS - Sines Industrial and Logistics Zone has a high-power 400Kv/150Kv/60Kv network with abundant, stable and redundant power supply.

Renewable energy
Renewable Energy Community (REC), (wind and photovoltaic power farms) on a collection of nearby private land and private developers with a production capacity of 1,543MW.

Water reservoirs
Large reserves of industrial water are available. Sea water intakes are also available.

Connectivity
Sines is a deep-sea water port for mooring submarine cables. Connectivity with a great diversity of routes to Europe.

Location
The western Atlantic front is strategically positioned for submarine cable connections and the installation of Data Centers.

Safe place
Portugal is ranked 3rd safest country in the world.

Close to Lisbon
1h30m driving time to Lisbon and to Lisbon International Airport.

Human Resources
Proximity to Universities and Polythecnic education schools.
Electrical Power Availability
Large Water Reservoir and Sea Water intake Infrastructures
Reduntant Inshore Connections
Support from local authorities and governmental authorities
If you have any questions, order a free conversation with our consultant